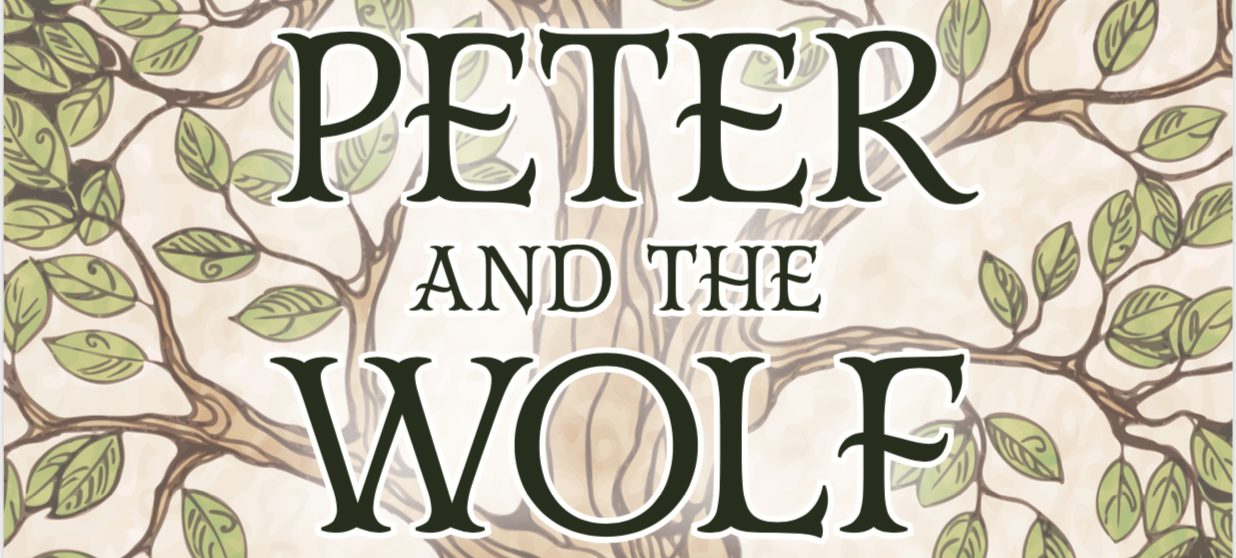 Peter and the Wolf
A Theatre of Ballet Arts Production
Saturday, November 16, 3pm and 7pm
Sunday, November 17, 3pm
Theatre of Ballet Arts presents the beloved classic – Peter and the Wolf. Music by Sergei Prokofiev with choreography by Summer Hamille.
Act I will feature young performers dancing to select pieces from Prokofiev's Music for Children.
Act II will feature the Ballet Arts Ensemble performing the classic Peter and the Wolf.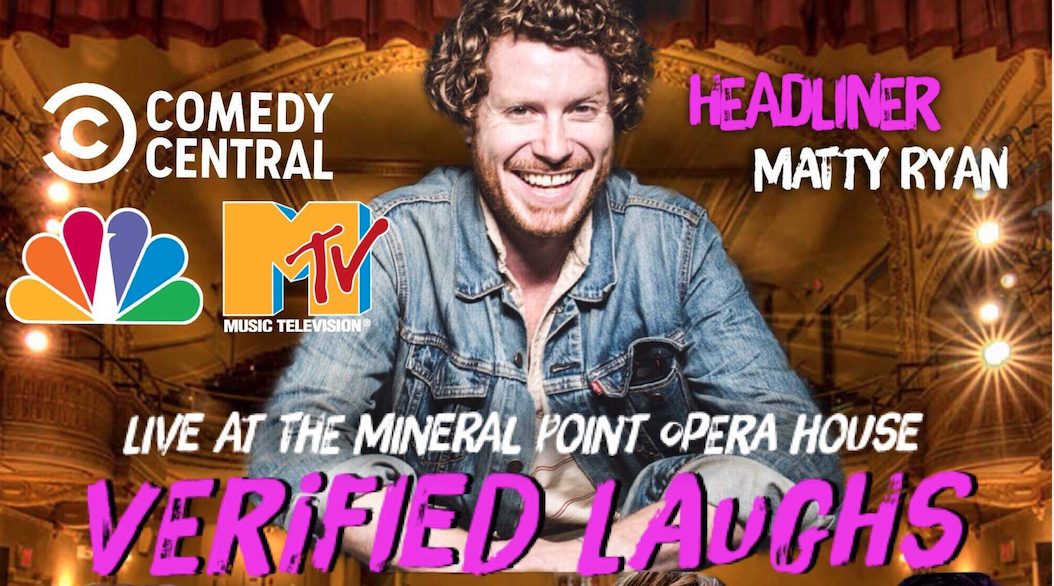 Verified Laughs with Headliner Matty Ryan
and with Daryll Schmitz, Alex Kumin, Chelsea Hood & Tommy Schneeman
Matty Ryan, an alumnus of the Second City, has appeared at The Hollywood Laugh Factory, The Hollywood Comedy Store, The Hollywood Improv, Laugh Factory Chicago, UCB LA, UCB East, iO Theater, Zanies, The Chicago Improv, and UP Comedy Club. In 2013 he was invited to perform at the TBS Just for Laughs Festival in Chicago; in 2016 he made his feature film debut with a role in Who Gets the Dog (nominated for 'Best Actor' in the 2016 Midwest Independent Film Festival); also in 2016, recorded a standup set for MTV's Acting Out. In 2017 he had a guest star role on NBC's Chicago Justice, performed at NBC Universal/Second City's Breakout Fest and appeared on WCIU's Chicago's One Night Stand Up. In 2019 he was selected for Just for Laughs Montreal New Faces, and he also taped a set for Comedy Central's Stand Up Featuring, which is currently streaming on their digital platforms.
Alex Kumin's bold and whip smart standup delights crowds across the city of Chicago and around the US. She is an alumni of the nation's longest running independent standup comedy showcase, The Lincoln Lodge, through which she also teaches Chicago's favorite all-female standup class, Feminine Comique. Her monthly showcase, Diamond Comedy Hour, takes place at the Chicago Laugh Factory on the first Friday of the month, featuring the premiere female comedians in the city and beyond. She has had the pleasure of working with Patton Oswalt, Maria Bamford, Tom Green, Rory Scovel, The Lucas Brothers, Aparna Nancherla, Greg Fitzsimmons, Jen Kirkman, and Todd Barry, among others and was selected as one of eight comedians at Gilda's Laughfest – Best of the Midwest Competition 2017. She made her television debut on WCIU's "Chicago's One Night Standup" and has appeared in NBC Universal's Breakout Festival ('16, '17, '18), Limestone Comedy Festival, Orlando Indie Comedy Fest and The Chicago Comedy Exposition. In 2016 she was named a comic to watch by Timeout Chicago and was one of Chicago Reader's standout comedians of the year. She has been featured in Chicago Magazine as a comedian with "unapologetic honesty", as she tackles heavy hitting social issues like gender inequality and thigh chaffing.
Daryll Schmitz is a nationally touring comic that doesn't hide the embarrassing qualities and moments that make him who he is. Born and raised on the mean streets of small town Wisconsin, he's quickly acclimated himself to the quiet life of Chicago. Daryll is a graduate of The World Famous Second City Training Center's Writing and Stand-Up Programs. He is an Executive Producer of Verified Laughs at The Laugh Factory, Producer of Sofar Sounds Comedy nights, a Producer of Stray Bits Comedy, and a former sketch comedy writer for Second City. This year Daryll has performed in clubs throughout the country. He recently opened for Barstool Sport's Francis Ellis and this year was featured at the Milwaukee Comedy Festival, Cream City Comedy Festival, and Paul Bunyan Festival.
Chelsea Hood is a stand up comedian living in Chicago, IL by way of the comedy scenes in both Dallas, TX and Brooklyn, NY. You may have seen her on WGN, The CW Network's Eye Opener, or CW33's Nightcap. She was also featured on Stand Up Records' "Texas Mess" album recorded at SXSW. If you'd like to see her perform live, her shows are listed on this here website. Chelsea's style of humor is observational, feminist, and pleasantly self-deprecating. Some of the comics she has been delighted to open for include; Marc Maron, Jay Mohr, Donnell Rawlings, Maria Bamford, Ralphie May, Richard Lewis, Pauly Shore, JB Smoove, Paul Rodriguez, Tom Green, Michael Winslow, Bobby Lee, and many more.
Tommy Schneeman is a Minnesota-born comic who has been coming up and down in the Chicago comedy scene over the past few years. Recent highlights for him include opening for Louie Anderson and being a regular atthe Chicago Improv. He also produces comedy shows for Sofar Sounds, along with a weekly show at The Laugh Factory called Verified Laughs. Tommy's style is boyish, witty, and overall pretty decent. And you can believe this because Tommy wrote it.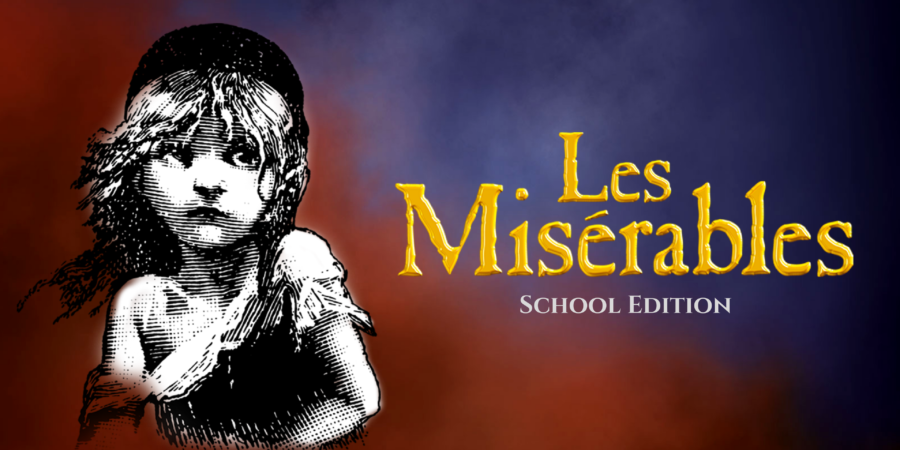 Les Miserables – School Edition
Mineral Point High School Musical
December 6 and 7, 7pm & December 8, 2pm
Rated PG-13
MPHS MUSICAL THEATRE STUDENTS TO STORM MUSICAL BARRICADE WITH LES MISÉRABLES SCHOOL EDITION ON DECEMBER 6th, 7th, and 8th!
Come to Mineral Point Opera House to see an adaptation performed entirely by students of the legendary musical that has thrilled over 47 million people worldwide!
Students from Mineral Point High School are studying the history of France in a unique way with a production of Les Misérables School Edition, an adaptation of the Tony Award-winning musical phenomenon which is performed by students only.
The future of the theatre is all about developing and nurturing a passion for musicals and plays among the young.  This is where new audiences will come from, and I believe Les Misérables, which tells a story of so many passionate and committed young people, is proving to be a thrilling theatrical learning experience for teenagers, as well as a wonderful communal experience for their teachers. says theatrical producer Sir Cameron Mackintosh.Les Misérables is one of the most popular musicals in the world and features one of the most memorable scores of all time. Through their production, these students are playing their own part in an epic piece of musical theatre history while offering their own take on themes like revolution, free speech, conviction and redemption. We hope youll join us in giving them a standing ovation! says Drew Cohen, president of Music Theatre International.
Tickets can be purchased at Berget Jewelers (257 High Street), online at BrownPaperTickets.com, the high school main office, and at Mineral Point Opera House.
Les Misérables School Edition is a version of the classic musical by Alain Boubil and Claude-Michel Schöneberg, based on the novel by Victor Hugo.  The music is by Claude-Michel Schöneberg, with lyrics by Herbert Kretzmer.  The show features original French text by Alain Boubil and Jean-Marc Natel, with additional material by James Fenton.  It is adapted by Trevor Nunn and John Caird, with original orchestrations by John Cameron, new orchestrations by Christopher Janke, Stephen Metcalfe and Stephen Brooker.  Les Misérables was originally produced by Cameron Mackintosh.  The School Edition is specially adapted and licensed by Music Theatre International and Cameron Mackintosh (Overseas) Ltd.
Winner of over 100 international awards, and seen by 8.5 million people in New York alone during its run from March, 1987, through May, 2003, Les Misérables is the worlds longest running musical and the third longest running musical in Broadway history.  Worldwide, the musical has been seen by over 70 million people, with a total box office gross of over $1.8 billion.
The show once again made history by becoming the first musical ever to become available for school productions while still playing on Broadway, in the West End and in productions around the world.  MTI released the authorized school version of the award-winning musical in 2003, which, according to Dramatics Magazine, was the number one produced musical in high schools that year.
International theatre producer Sir Cameron Mackintosh supervised the creation of a school edition of Alain Boublil and Claude-Michel Schönbergs epic musical in order to nurture a passion for the theater among youth.  The show was made available to schools, childrens theatres, childrens camps and other organizations with programs for young performers (all performers must be under 19 years of age) nationwide in 2002, to honor the 200th anniversary of Victor Hugos birth.  Les Misérables School Edition has a running time of just over two and a half hours (including intermission).
This epic story of Les Misérables recounts the struggle against adversity in 19th century France. Imprisoned for stealing a loaf of bread, petty thief Jean Valjean is released from his 19-year term and not only becomes and honest man, but the mayor of a prosperous town and a loving adoptive father  violating his parole in the process. The relentless Inspector Javert, who makes a decent life for Valjean impossible, consequently pursues him. Only years later, after Valjean proves his mettle during a bloody student uprising and saves the life of a young man hopelessly in love with Valjeans adopted daughter, does the ex-convict finally feel fully redeemed.
About MTI
Music Theatre International (MTI) is one of the world's leading theatrical licensing agencies, granting theatres from around the world the rights to perform the greatest selection of musicals from Broadway and beyond. Founded in 1952 by composer Frank Loesser, and orchestrator Don Walker, MTI is a driving force in advancing musical theatre as a vibrant and engaging art form.
MTI works directly with the composers, lyricists and book writers of these musicals to provide official scripts, musical materials and dynamic theatrical resources to over 70,000 professional, community and school theatres in the US and in over 60 countries worldwide.
MTI is particularly dedicated to educational theatre, and has created special collections to meet the needs of various types of performers and audiences. MTIs Broadway Junior™ shows are 30- and 60-minute musicals for performance by elementary and middle school-aged performers.  During the past twenty years over 5,000,000 students and over 500,000 educators have been involved in at least one of the over 150,000 global productions of a Broadway Junior™ musical.
Contact:   Ashley McHugh, Mineral Point Unified Schools, 608-987-0730, Ashley.McHugh@mp.k12.wi.us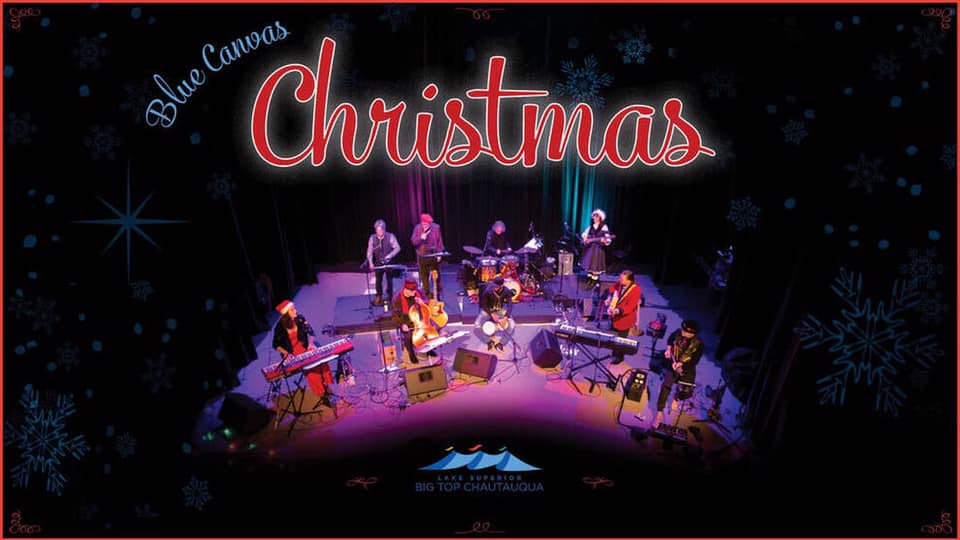 Blue Canvas Christmas
Big Top Chautauqua
From the eight piece house band of the Lake Superior Big Top Chautauqua comes Blue Canvas Christmas, a joyful collaboration of some of Wisconsins finest holiday music loving musicians.
From the sublime to the raucous, this band of characters brings with them their years of comradery and exquisite musicianship. Expect an evening of beautiful voices blending harmonies as only singers with decades of singing together can; amazing arrangements for violin and cello, transforming music from Vivaldi to Bob Dylan to Jackson Browne to Randy Sabien and his own original, Boogie-woogie Christmas; strolls down nostalgia lane with Tom Mitchells readings of Charles Dickens and Clement Clarke Moore; and lots and lots of laughter.
Santas list for the night goes on and on, but let it suffice to say that it will truly be a night with musical gifts piled high under the tree.
Tickets cost $25 for box seats or front row, $20 for the main floor and $15 for the balcony and are available online at
https://m.bpt.me/event/4439133
or at the doors, which open at 6:30pm.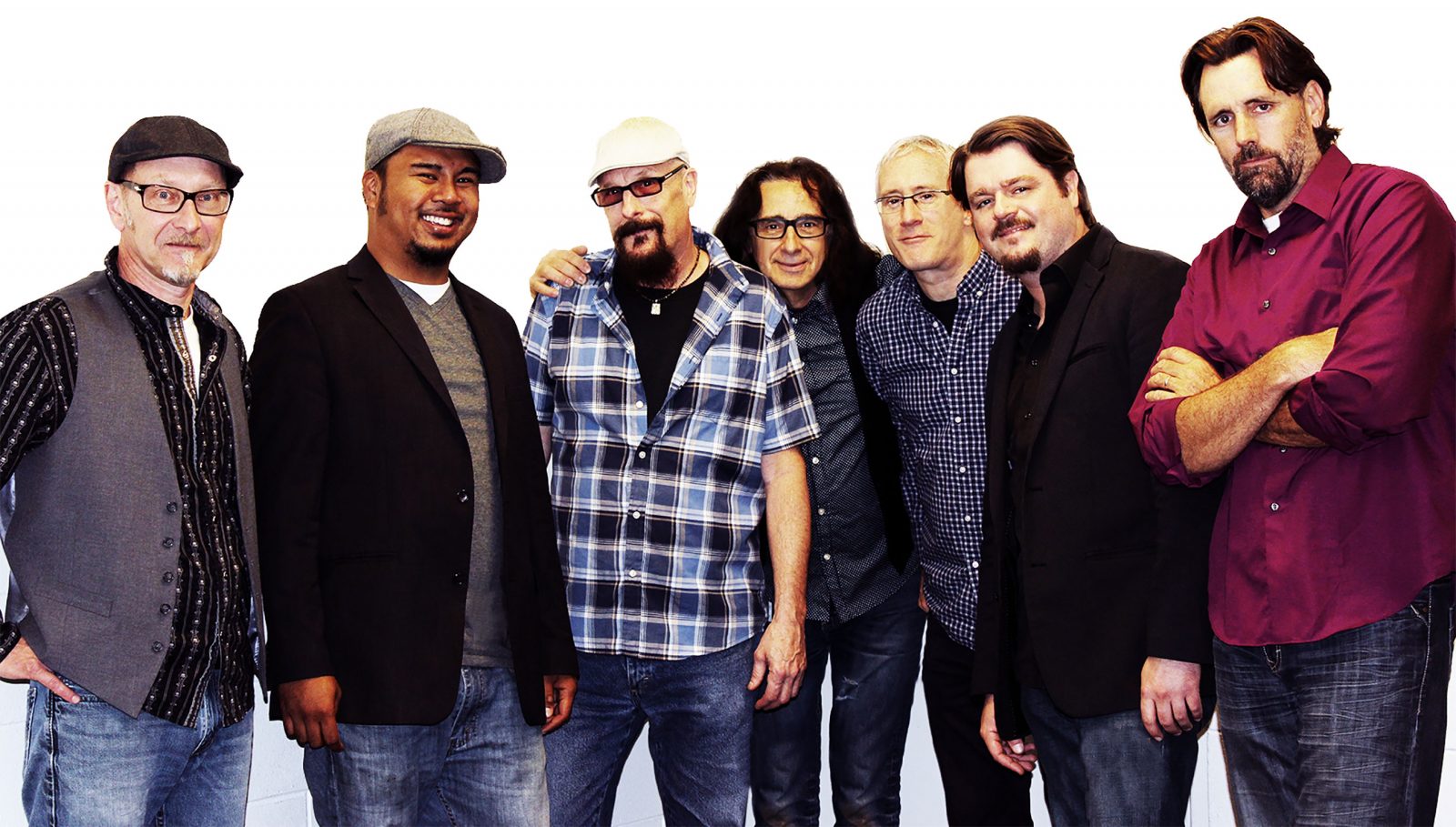 The Jimmys are a powerhouse, seven-piece band influenced by raw Chicago Blues to second line New Orleans funk. With touring experience throughout the U.S. and Europe, The Jimmys have amassed international acclaim. Members have garnered Wisconsin's top honor in Blues to Grammy recognition to platinum records!
Band Members
Jimmy Voegeli (hammond organ, keys & vocals)
Perry Weber (guitar & vocals)
John Wartenweiler (electric & upright bass)
Pete Ross (saxophones)
Mike Boman (trumpet)
Derek Hendrickson (drums)
Chris Sandoval (drums)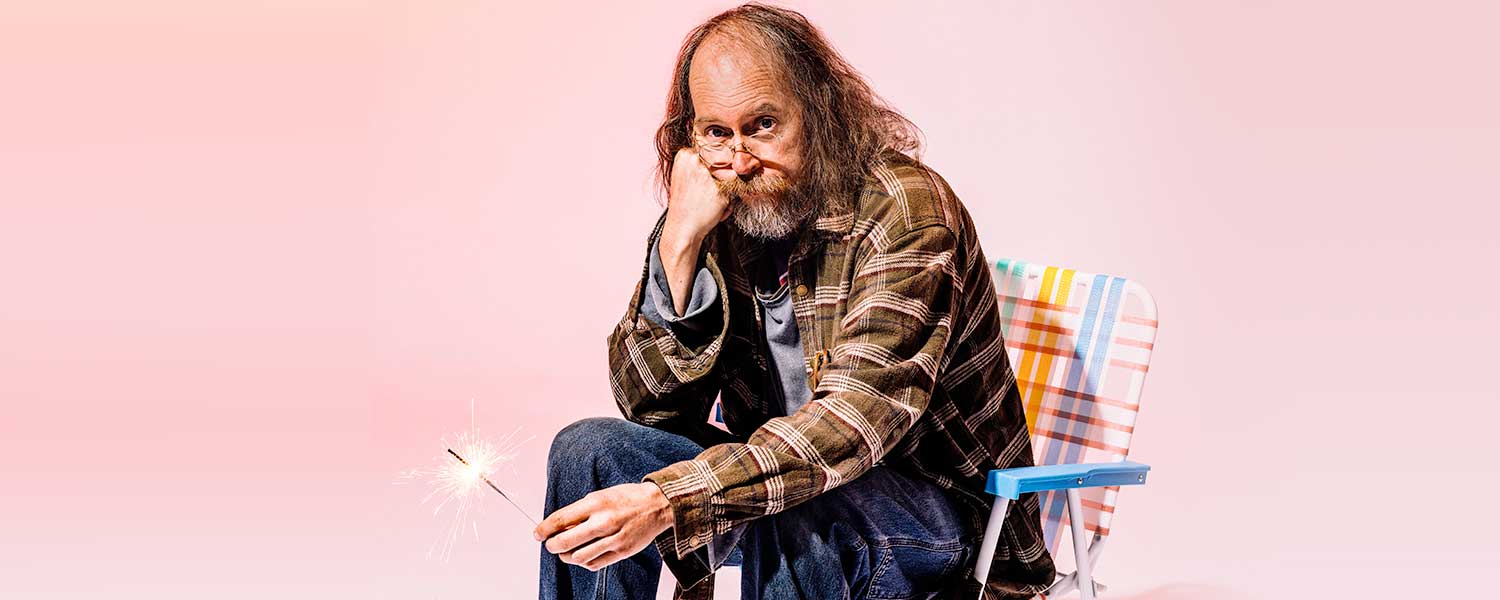 Charlie Parr is the eponymous new album by the Minnesota-based folk blues artist the same name. Parr will be performing at the Mineral Point Opera House at 7:30 pm on Feb 1, 2020.
The album, released by Red House Records, is a collection of new songs and new studio versions of classics/audience favorites from throughout Charlie's career. Recorded at the legendary Pachyderm Studio in Canon Falls, MN, Charlie Parr features Charlie's trademark resonator guitar and 12-string with co-producer Liz Draper on bass, longtime collaborator Mikkel Beckmen on percussion, Jeff Mitchell on electric guitar, accordion, organ, backing vocals, and Dave Hundrieser on harmonica. The album is an honest and raw recording of Charlie reflecting on himself and his career up to this point. It's a musical reckoning that came after a freak accident less than a year ago that forced him to relearn how to play guitar, causing him to take stock of the songs he's written over his lifetime. Charlie Parr is a stunning folk record that will surely stand the test of time, just like the man himself.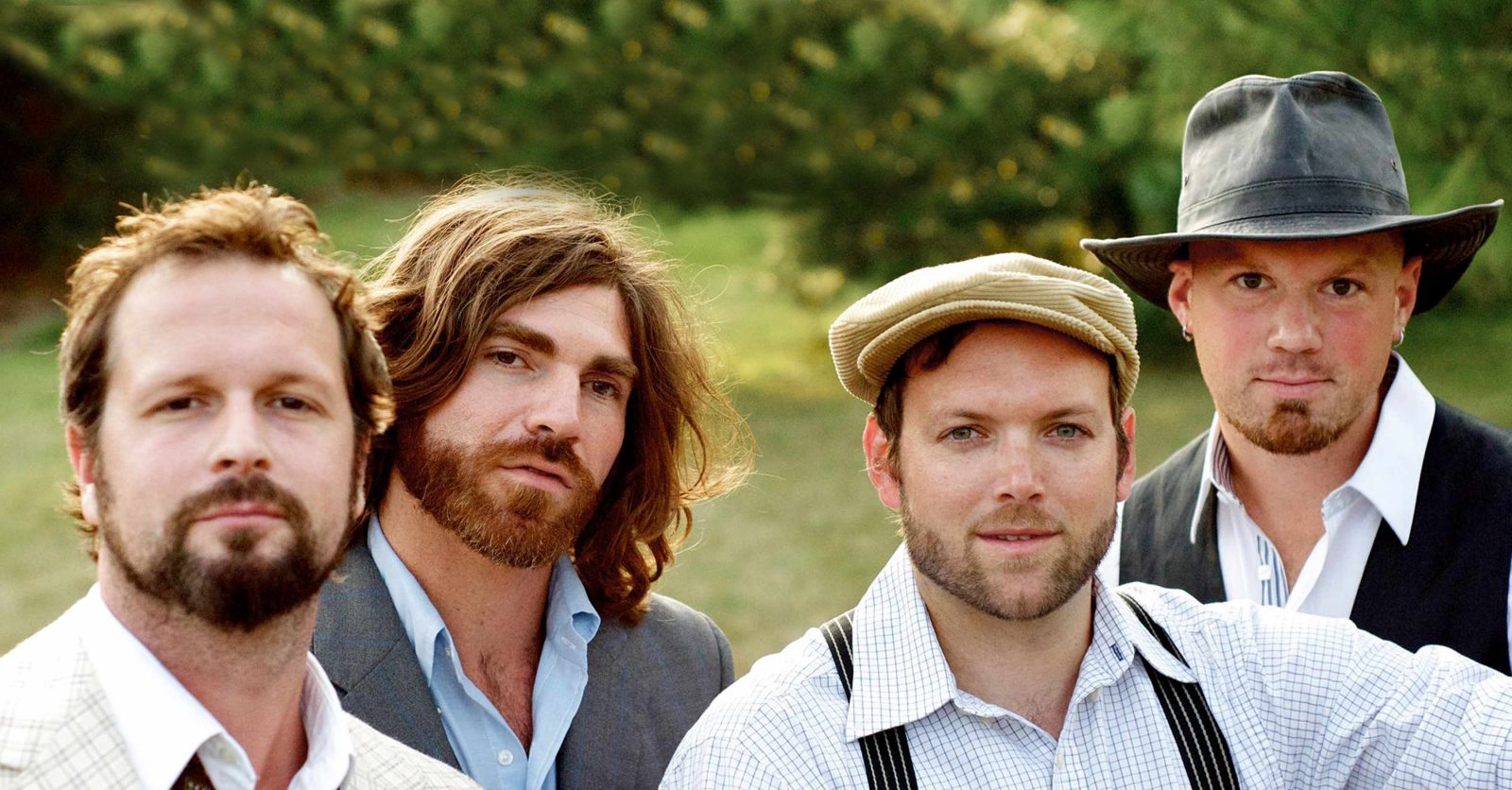 WheelHouse is a nationally touring Americana and bluegrass band hailing from Madison, Wisconsin. As a full-time working band they perform over 220 shows per year and have garnered attention from national labels. Featuring three and four part harmonies, fiddle and guitar leads, and driving rhythm of the upright bass WheelHouse brings an energy and attitude unique to themselves.  
WheelHouse also owns their own brand of whiskey appropriately named WheelHouse Whiskey, which can be found throughout southwestern Wisconsin.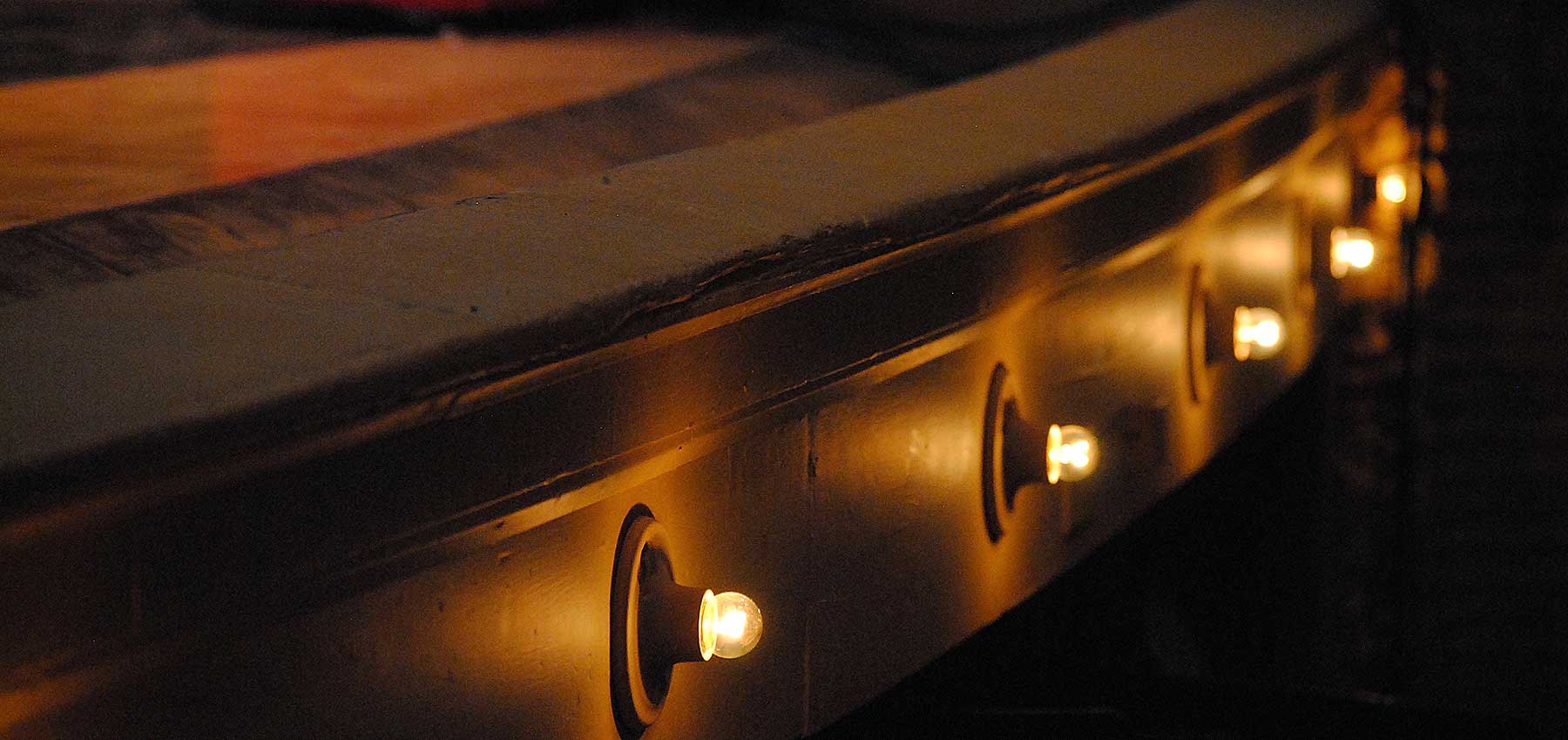 Improv Night at the Opera House
Join us for a night of comedy from this comedy troupe featuring Mineral Point's own Brett Hermanson and Keith Huie!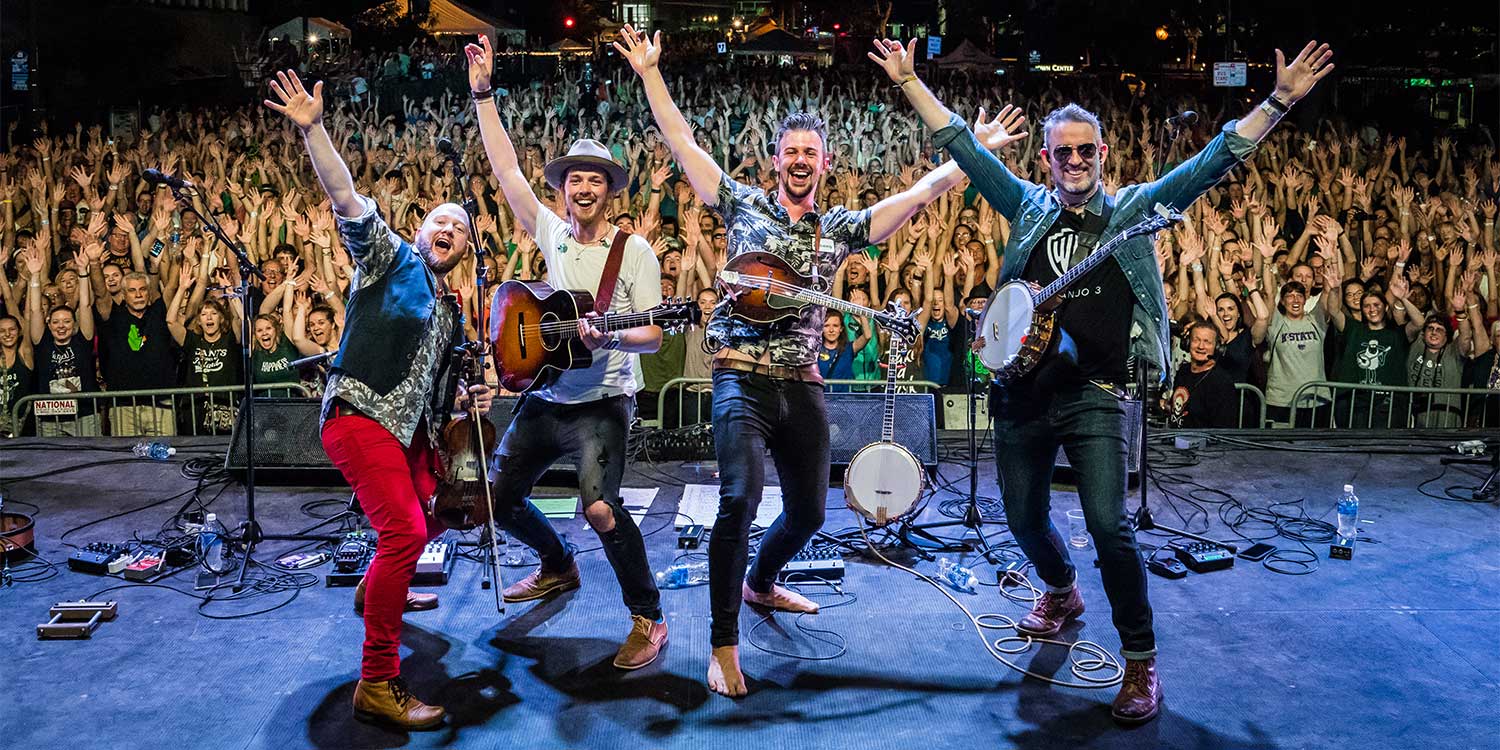 A band that straddles the crossroads between traditional Irish music and Americana makes its Mineral Point debut this spring at the Mineral Point Opera House.
We Banjo 3 has garnered multiple awards and accolades as diverse as Billboard's top world and bluegrass act to RTE Folk Album of the Year. Irish Times named the band's 2018 release Haven its Album of the Year. Living up to its moniker as the Irish Punch Brothers, the album was featured in No Depression's top 30 folk albums of 2018. The band has played for U.S. and Irish Presidents, members of Congress and multiple European ambassadors, as well as performing live to over 400,000 people annually across a multitude of Irish, folk and roots festivals in the U.S.
We Banjo 3 will play at the MPOH on Wednesday, March 11 at 7:30 p.m. Tickets are on sale now.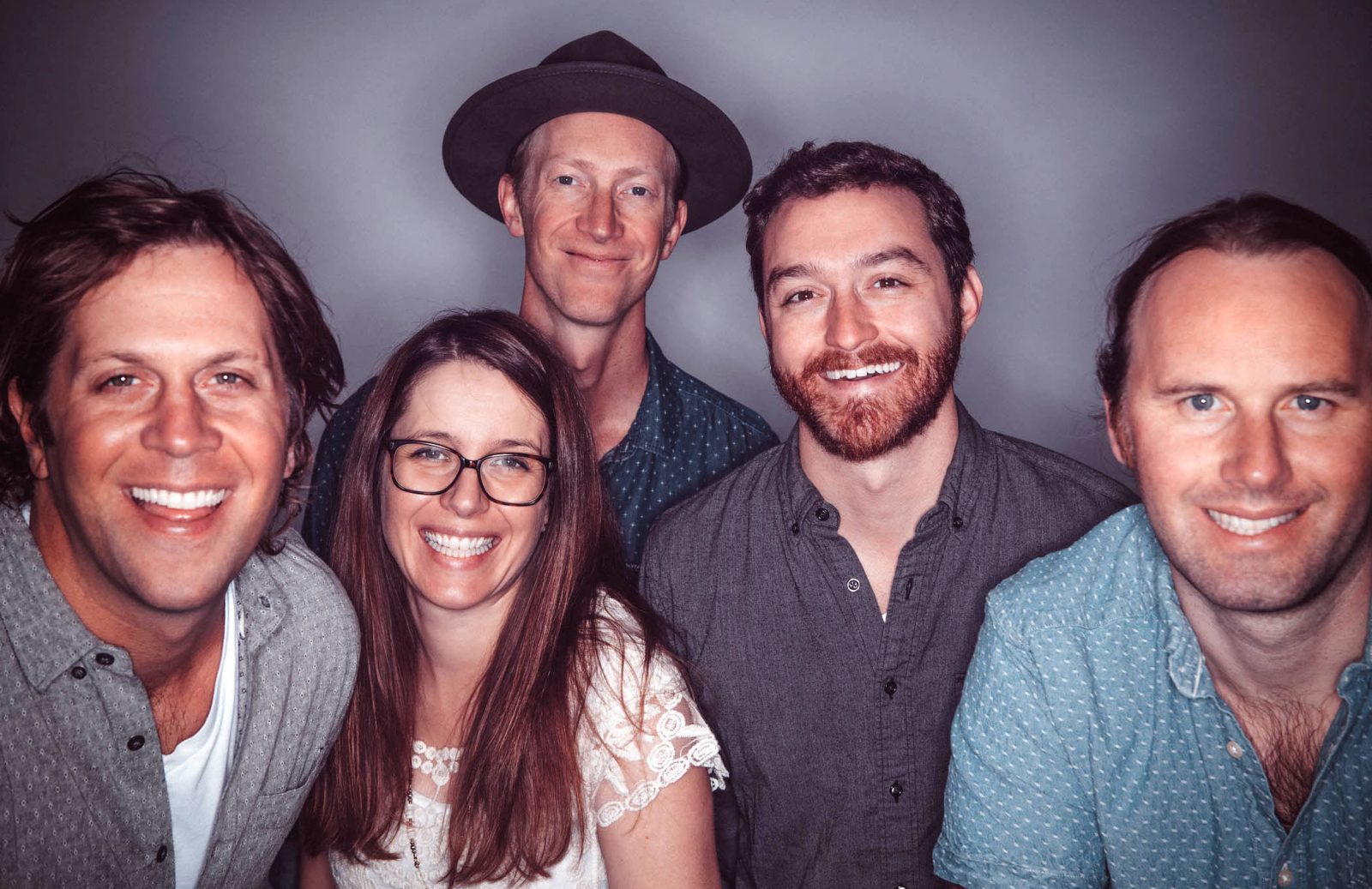 Ever since winning the 2014 Telluride Bluegrass Festival Band Competition, Trout Steak Revival has quickly become the quintessential Colorado string band. The band won an Emmy Award for a soundtrack they contributed to a Rocky Mountain PBS. They have collaborated with school children in mentoring programs in both Denver and the mountain communities. Their music is featured on Bank of Colorado's radio and television advertisements. Most recently, Westword named them Denver's Best Bluegrass Band and they were nominated as a Momentum Band of the Year by the International Bluegrass Music Association.
Defined more by expressive songwriting and heartfelt harmonies rather than any one genre, Trout Steak Revival crosses over and blends the bounds of folk, indie, bluegrass, and roots evoking its own style of Americana. With five band members all contributing unique lyrics, lead vocals, acoustic instrumentation, and harmonies, Trout Steak Revival delivers memorable tunes to an energetic fanbase that grows hand-in-hand with the band.