Featuring New Orleans' Dirty Dozen Brass Band and Lafayette's Nathan & The Zydeco Cha Chas
Note: The Mineral Point Opera House is requiring printed proof of COVID-19 vaccination or a negative test taken within 72 hours of showtime. For more information, visit mpoh.org/covid. You must agree to these terms and conditions in order to purchase tickets to Opera House events.
The Dirty Dozen Brass Band are the pioneers of the modern New Orleans brass band movement, recognized worldwide as an unstoppable musical machine. Nathan Williams delivers a direct connection to Zydeco's storied pioneers such as Clifton Chenier and Boozoo Chavis. Together, it's a non-stop dance fest. A master class in blues, cajun, New Orleans soul, zydeco and R&B from two of Louisiana's best!
The Dirty Dozen Brass Band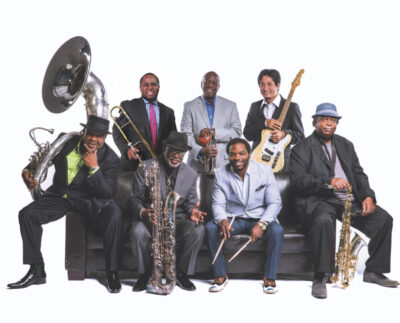 Celebrating over 40 years since their founding in 1977, New Orleans-based Dirty Dozen Brass Band has taken the traditional foundation of brass band music and incorporated it into a blend of genres including Bebop Jazz, Funk and R&B/Soul. This unique sound, described by the band as a 'musical gumbo,' has allowed the Dirty Dozen to tour across 5 continents and more than 30 countries, record 12 studio albums and collaborate with a range of artists from Modest Mouse to Widespread Panic to Norah Jones. Forty-plus years later, the Dirty Dozen Brass Band is a world famous music machine whose name is synonymous with genre-bending romps and high-octane performances.
Roger Lewis – Baritone Sax/Vocals
Kevin Harris – Tenor Sax/Vocals
Gregory Davis – Trumpet/Vocals
Kirk Joseph – Sousaphone
TJ Norris – Trombone/Vocals
Julian Addison – Drums
Takeshi Shimmura – Guitar
In 1977, The Dirty Dozen Social Aid and Pleasure Club in New Orleans began showcasing a traditional Crescent City brass band. It was a joining of two proud, but antiquated, traditions at the time: social aid and pleasure clubs dated back over a century to a time when black southerners could rarely afford life insurance, and the clubs would provide proper funeral arrangements. Brass bands, early predecessors of jazz as we know it, would often follow the funeral procession playing somber dirges, then once the family of the deceased was out of earshot, burst into jubilant dance tunes as casual onlookers danced in the streets. By the late '70s, few of either existed. The Dirty Dozen Social Aid and Pleasure Club decided to assemble this group as a house band, and over the course of these early gigs, the seven-member ensemble adopted the venue's name: The Dirty Dozen Brass Band.
Nathan & The Zydeco Cha Chas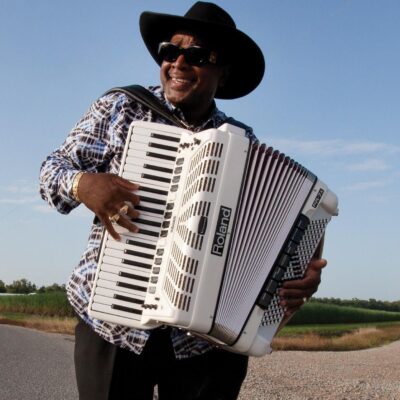 Growing up in a Creole-speaking home in St. Martinville, Nathan eagerly sought out the music of Zydeco originators such as Clifton Chenier. Later, while recovering from a serious illness, Nathan decided to dedicate himself to learning the accordion. That dedication blossomed into an illustrious career, which now spans three decades.
The music of Nathan and the Zydeco Cha-Chas is the expression of a remarkable South Louisiana family. Dennis Paul Williams, Nathan's brother, brings his jazz-influenced guitar chops to the band. He's also a well-known painter whose work has been shown throughout the country, and has recently published a collection of his work. The eldest Williams brother, Sid 'El Sid O' Williams, is a Lafayette legend unto himself, and Zydeco would never have survived into the new millenium without him.
Nathan formed The Cha-Chas back in 1985, and since then has brought his unique take on this regional South Louisiana music to all corners of the globe. From Lincoln Center in New York to The Grand Ole Opry in Nashville, Nathan's music has crossed all barriers to speak to the very heart of his audience.
Inducted into the Louisiana Music Hall of Fame in 2005, he was honored last year with the Zydeco Music Association's Lifetime Achievement Award. The Cha-Chas have been voted the top Festival Band in the country, and have won the coveted Big Easy award for Best Zydeco Band for several years running.
Nathan and his band have been featured in the New York Times, Essence and People magazines, and on the cover of USA Today. They've appeared in films like In The Electric Mist and The Kingdom of Zydeco, and worked with artists as diverse as Cindy Lauper, Michael Doucet and Buddy Guy.
Keepers of the Zydeco Flame, they are committed to keeping their Creole Heritage alive…
– C'est Si Bon!