With Mineral Point's own Red Door Duo as opening act.
Due to continuing unsafe winter weather travel conditions, Mason Jennings' performance has been rescheduled to Wednesday, March 23. If you purchased tickets to this event they will automatically transfer to the new date. If you are unable to make the new date, please reach out to us at info@mpoh.org or call 608-987-3501 and we will refund your tickets. We apologize for any inconvenience.
"I love song craft," says longtime folksinger Mason Jennings, who's spent the bulk of the past 25 years onstage and in the writing room.
"A song is like a boat on the water, and you're trying to make it float using as few pieces as you can. If you do it right, a song can be very healing. This album feels that way to me. It's a love letter to songwriting."
Jennings will take the stage at the Mineral Point Opera House on Thursday, March 23 at 8 p.m., with doors open at 7 p.m. Advance reserved seating tickets begin at $20, and are on sale at Eventbrite.
Opening for Jennings will be Mineral Point guitarists Red Door Duo.
He's excited to be talking about Real Heart, his fourteenth solo album. Jennings calls it "the unabashed folk record that I have been wanting to make for years," pointing to the project's warm mix of acoustic guitar, unforced vocals, and autobiographical lyrics. At the same time, Real Heart also reaches beyond the genre's boundaries, making room for nuanced layers of horns, strings, and piano. The result is a record that both reclaims and redefines Mason Jennings' role as a leading light in the folk community, with production from Malfunkshun's Regan Hagar and Pearl Jam's Stone Gossard.
The last time we heard from Jennings, he was stretching his legs with Painted Shield, the synth-based supergroup whose self-titled debut album appeared in 2020. Recorded alongside Gossard, drummer Matt Chamberlain, and keyboardist/singer Brittany Davis, the album traded the organic sounds of Jennings' earlier work for something more digital and driving. Fronting a band was a new experience for Jennings, affording him the opportunity to work with new collaborators and genre-crossing arrangements. It also shed new light on his own music.
‍
"Being in that band really freed me up as a solo artist," he explains. "The Painted Shield album was so bombastic that it allowed me up to put my folk hat back on once I began writing these new songs. Real Heart exists within the world of Nick Drake, John Fahey, and the acoustic Led Zeppelin songs that I love so much, with arrangements that often remind me of Tom Waits.. That's the sound of this record, and I didn't worry about bringing in new elements from other genres, just for diversity's sake. I let this music be what it wanted to be."
Real Heart is the sound of a musician easing back into his own skin and making art not only on his own terms, but on his own turf, too. Jennings began recording the album at his lake house outside St. Paul, Minnesota, strumming each song while staring at the water outside. "I live in a house that's all glass windows, and I'd stare at the big lake while tracking these songs," he explains. "I used one microphone and kept everything very basic, and that's a big part of the record's vibe. You can hear the room itself. It's less about performance and pretense, and it's more like we're sitting in a room together, having a conversation. The cover art is a woven wall-hanging that my wife Josie made that is hanging on our lake house wall. That sets the tone: warmth, home, and intimacy."
‍
Songs like "I Feel Loved" and "Tomorrow" return Jennings to the acoustic-driven folk music that launched his career years earlier. Born in Honolulu and raised in Pittsburgh, he released his debut record in 1997, following a pivotal move to Minneapolis. Jennings' contemporary interpretation of a classic sound quickly earned him a number of allies, including fellow musicians like Jack Johnson and Modest Mouse's Isaac Brock, both of whom released his albums on their respective labels. Rolling Stone hailed him as a "Minnesota folk king," while the New York Times asserted that "Mr. Jennings is just waiting to sell millions of records." A prolific writer, he released studio albums at a steady clip throughout the 2000s and 2010s, flying the flag for American roots music long before the Americana genre received its own category at the Grammy Awards.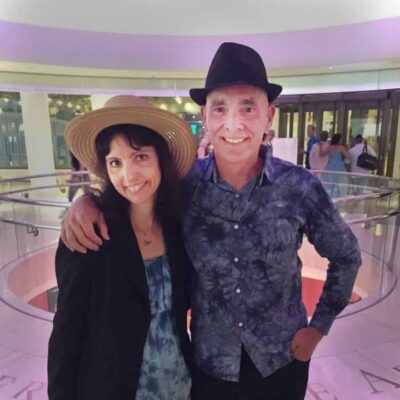 Red Door Duo performs "new acoustic" songs and instrumentals and are especially known for their fingerstyle guitar music. Vocal harmonies, ukulele and mandolin are also known to make an appearance in their concerts. The duo is a musical couple composed of award winning singer-songwriter and 2014 International Fingerstyle Guitar Champion, Helen Avakian, joining forces with acclaimed jazz, bluegrass and Brazilian fingerstyle guitarist Dave Irwin.
Avakian has earned numerous accolades for her performance (voted "Favorite Acoustic Act" four times by Rhythm and News), songwriting (8 time winner of the NewSongs Contest) at the Walnut Valley Festival in Kansas, and has shared the stage with artists Peter Yarrow (Peter, Paul and Mary), Mary Fahl (October Project, Peter Hutlinger (John Denver Guitarist, Winfield Guitar Champ as well),Muriel Anderson, Christie Lenee to name a few. Irwin has had a wide spectrum of musical experiences including studying jazz at UW-Madison under Billy Cheatham (played trombone with Ellington,Hampton and Coleman), and guitar with Roy PLum (acolyte of legendary George Van Eps). He performed over 15 years and arranged for the 10 piece ensemble "The Wall of Sound:", was the house guitarist at Samba Brazilian Grill doing musicc from Brazil for 5 years, has performed the National Anthem on solo guitar at Madison's Kohl Center for UW sports events and the Olympic Wrestling Trials, and often appears at Madison's annual Brazilian Carnival show.
However, when Red Door Duo's individual forces unite on stage, their combined influences form an entirely original and mesmerizing blend of acoustic traditions. They have thrilled audiences from the Midwest to New England with their imaginative set lists, featuring captivating original compositions, contemporary cover arrangements, and even reinterpretations of Baroque and Classical masterworks. Through their music the two permit audiences an authentic glimpse into their ever evolving musical partnership both on and off the stage.